HEAR IT
Zeolla - Luxury confectionery and gifts are proud to introduce our new 'hear it' range. We have combined the use of modern technology with our products to offer a real persoalised experience. By scanning the qr code the recipient will hear your very own pre-recorded personalised message. The QR code is added to Milk chocolate 85g wrapper.
We are very excited about this launch, this really takes personalisation to another level. If you would like to find out more do get in touch.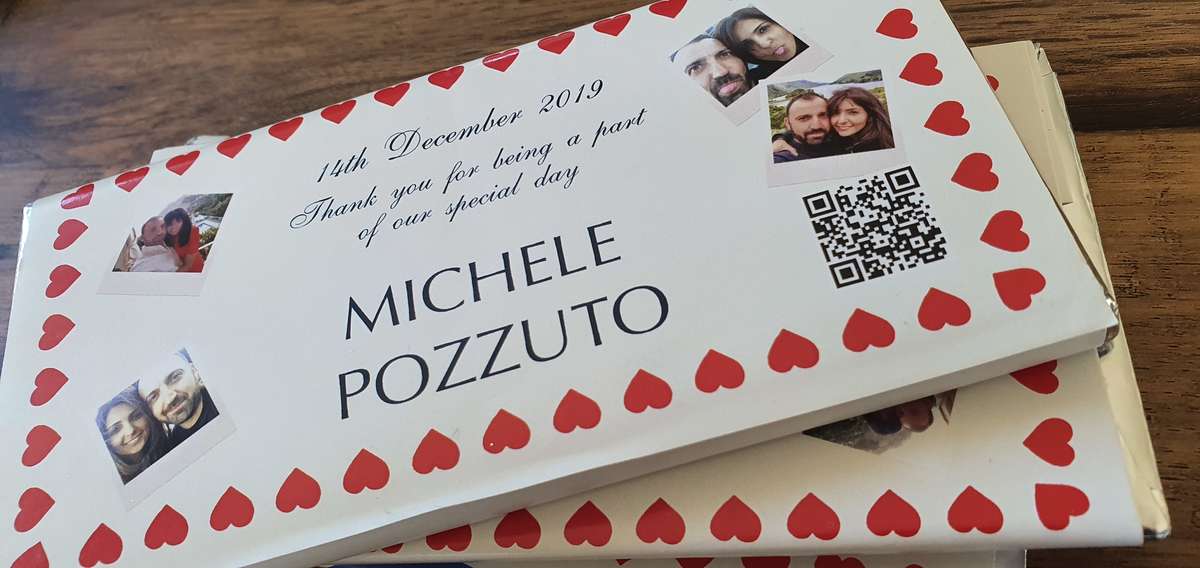 Here is our first project last year when we where super proud to apart of this special occasion. The special couple wanted something different so we create an extra wrapper. We personalised the wrapper 100% using their own photos, a special message including the wedding date and bride and grooms names.

We personalised this further by adding each guest name to the wrapper which acted as place name as well as the favour. If that wasn't enough we then added a personalised qr code which when scanned was an audio message of the couple saying thank you to all their guests.

The qr code is still active today, if you are viewing this on a desktop or laptop use your phone camera to scan and listen to their message. Please note we have since invested into a new qr code system which is now bigger and better.
PS - congratulations to the happy couple
How it works?
Here at Zeolla we have worked hard to make the process as easy as possible but before you place an order it is always best to contact us first so we can discuss your project and ideas., we would love to work with you and that means understanding your project in full before we get started. After our initial discussion we will create your very own QR code, this code will be printed onto the personalised chocolate wrapper or personalised box created by us. Once printed and distributed your clients, guests, friends or family can scan the QR code with there smart phone to unveil whats behind the code.
What is a QR code and what can it do?
A QR Code, or quick response Code, is a Code that is quickly readable by a mobile phone, just place your phone camera over the QR code and see where it takes you. We have been using QR codes for a number of years but they still fascinate us today. Used creatively they can not only be really powerful but also really fun, we have created QR codes for weddings, hotels, corporate fun days and more.
QR codes sounds great, can you help with ideas?
Yes, yes yes..... nothing feels us with more joy than creating your personlised chocolate wrapper, with QR code. We got the ideas, the chocolate and the experience.
How do I send my audio message?
Easy and it's free, use our built in software below to record your message. if you are not happy with your first recording, record it again until you are happy.


Record your audio here, don't worry if it is not perfect first time
you can re-record as many times as you like.
Get in touch for a friendly chat to discus your idea by completing the short form below, or call or whatsapp us now on 07931 737 322.